How to Blind bake
Knowing how to blind bake can mean the difference between an uneven or even flat base to a pie or tart, or the difference between and crisp and dry or a wet and soggy bottom. The following 'how to' runs through this simple but mystical process.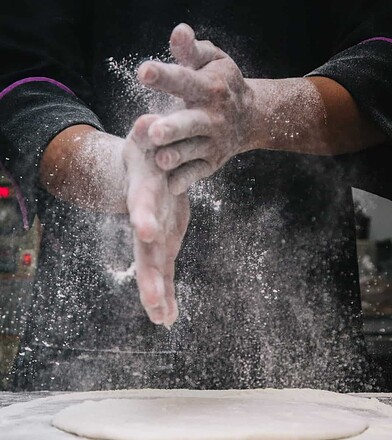 Steps
1- Roll the pastry out to about 3mm thickness, about 4cm (1.5 inches) wider than the tin you're lining. (If it's a deep tin, you'll need to roll it wider.)
2- Use the rolling pin to lift the pastry and help you position it over the tin.
3- Ensure that the pastry fits snuggly against all side of the tin.
4- Leave an overhang of pastry around the sides of the tin.
5- Prick the base of the pastry case all over with a fork.
6- Line the tart tin with baking parchment and fill with ceramic baking beans or dried pulses.
7- Bake for about 15 minutes or until the pastry is firm, then remove the beans and cook for about 5 minutes more, until golden brown and biscuity.
8- Trim off any excess using a small serrated knife before filling.
Tips
Rather than using your finger tips to push the pastry into the nooks and crannies of your tin, push it into the corners using a rolled-up ball of pastry trimmings which you have dusted with flour.